Established in 1975, Vinpac is a fully integrated packaging company, providing winemaking, bottling, laboratory, and warehouse services to wineries across Australia. It is Australia's largest contract bottler, with two sites in operation: at McLaren Vale, and Angaston in the Barossa Valley. BHF Technologies has been supplying filtration products and services to Vinpac Angaston since 2011, and Vinpac McLaren Vale since 2010.
The Problem
Vinpac needed a system for the sterile filtration of customer wines, that would accommodate a significant increase in production at Angaston, with the capability to filter in excess of 9000 litres per hour.
The Solution
The upgraded filtration skid included two lenticular housings containing BECO lenticular modules, followed by two sanitary housings containing 0.65µm pre-filters and the final 0.45µm membranes.  The housings were arranged linearly to meet footprint limitations, though the lenticular housings were plumbed in parallel to facilitate the required flow rate. Three-stack lenticular housings were chosen, to minimise handling and enable reuse of the existing gantry in line with occupational health and safety requirements. The design allows for easy cleaning, integrity testing, and filter changeout.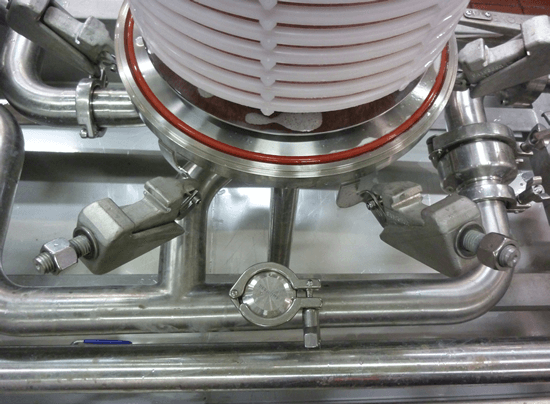 Results
"When moving to Blue H20 some years ago, Vinpac International took a risk. Blue H20 based their supply proposal on service and technology and a commitment to partner with us on a journey of continuous improvement. What can I say? We have not been disappointed. The service is second to none, and through our partnership we have reduced our filtration costs dramatically."

Andrew Holdback
Operations Manager
Vinpac International